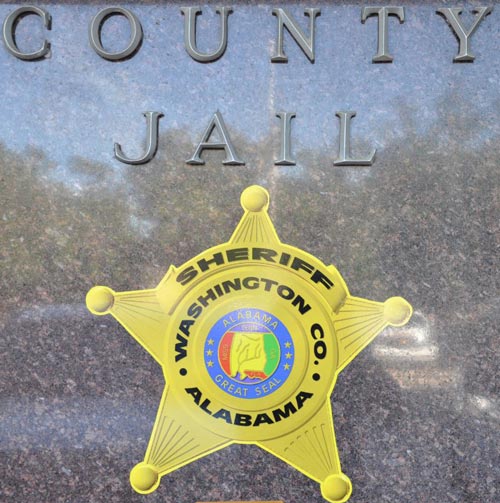 WASHINGTON COUNTY JAIL
 The Washington County Sheriff's Office is responsible for the Washington County Jail. This facility houses an average of 80 inmates per day and is the detention facility, not only for the county, but for the towns of Chatom, Millry, and McIntosh.  The Washington County Jail provides inmate labor for trash collection on Washington county roads, as well as assistance with projects for schools and the public library.  This labor source saves taxpayers a significant amount of money each year.
TO SEND MAIL TO AN INMATE
P. O. Box 307, Chatom, Alabama 36518

NAME of inmate should be on letter.
MUST HAVE RETURN ADDRESS
 REJECTION OF INMATE MAIL
     MAIL WILL BE REJECTED IF IT IS DETERMINED TO BE DETRIMENTAL TO SECURITY, ORDER, OR HEALTH AND WELL-BEING OF THE INMATE.  BELOW IS A LIST OF ITEMS THAT IF RECEIVED IN INMATE MAIL WILL RESULT IN REJECTION.
  DO NOT:
* DO NOT SEND THIRD PARTY LETTERS: INMATES MAY NOT FORWARD LETTERS TO OTHER INMATES CONFINED AT THIS FACILITY OR OTHER PENAL INSTITUTIONS
* DO NOT SEND PERSONAL CHECKS OR CASH (ONLY MONEY ORDERS MADE PAYABLE TO THE INMATE ARE ACCEPTED THROUGH THE MAIL)
* DO NOT SEND BLANK PAPER OR ENVELOPES
* DO NOT SEND PADDED OR BUBBLED ENVELOPES
* DO NOT PUT PERFUME, POWDER, OR COLOGNE ON LETTERS
* DO NOT SEND MAIL CONTAINING BODY FLUIDS OR HAIR
* DO NOT KISS INMATE CORRESPONDENCE
* DO NOT SEND LETTERS OR CARDS WITH GLUE, TAPE, GLITTER, STICKERS OR LABELS
* DO NOT SEND LETTERS THAT ARE STAINED OR EXTREMELY DIRTY
* DO NOT SEND FOOD ITEMS, GUM, OR FOOD LABELS/WRAPPERS
* DO NOT SEND PHOTOS OF ANY KIND
* DO NOT SEND ANYTHING DEPICTING VIOLENCE, SEX OR GANG AFFILIATION
 VISITATION
WASHINGTON COUNTY JAIL
You may list two (2) names on your visitation card.
Visitation is offered one (1) day a week, WEDNESDAY 1PM-3PM
You have one (1) 15 minute visitation period each week.  All visitation, with the exception of attorney visits, is non-contact.  The people on visitation card should call the jail at 251-847-2202 to make an appointment to visit.  Appointment requests are taken Monday thru Tuesday from 8:00 am until 4:00 pm. Appointments for visitation at the jail should be made on Monday or Tuesday the week of visitation.
No children are allowed in the lobby.
NO CELL PHONES, PURSES OR BAGS ARE ALLOWED DURING VISITATION, please secure these items prior to arriving for your visit.   WE ARE NOT responsible for any items left in office while visiting your loved one.
Dress code is strictly enforced. Females must be dressed appropriately or they WILL NOT be allowed to visit. Pants or skirts cannot be above the knee and shirts must cover chest area and have sleeves.  Leggings, tank tops, shorts, or any other tight fitting clothes WILL NOT BE PERMITTED.
 BONDS:
For safety and security of the jail staff and inmates, no one will be released by bond between the hours of 4:30 P.M. and 8:00 A.M.
 A bond can be made one of two ways:
Cash Bond

-Pay the total amount of the bond at the clerk's office, inside the courthouse. Bring a copy of the receipt to the jail. Bond money will be returned to you after sentencing in the case. (The judge has the right to deduct court cost and fines from bond money).
 Bail Bondsman-The bonding company must be licensed in Washington County.
ALL bonds also require a $35.00 bond-filing fee in the form of a money order. The money order should be made out to the Washington County Circuit Clerk. (Neither cash nor personal checks will be accepted).
 Bonding agencies licensed in Washington County:
Cherokee Bail Bonds (251) 847-2827
All Star (251) 847-2663